Home - Firefox Extensions - Thunderbird Extensions - Translations -
Contac

t
Thunderbird Extension: Delete Junk Context Menu
Delete Junk Context Menu 0.3.2.1
Released on
2007.04.11
for Thunderbird 0.5 - 3.0 on all operating systems
This extension adds a menu item to delete mail marked as junk from the folder that you right click on. Optionally bypasses the Trash folder when deleting!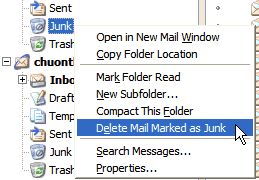 Translations available: en-US, de-DE, es-ES, fr-FR, it-IT, ko-KR, nl-NL, nb-NL, pl-PL, pt-BR
To install this extension, click on the
Download
button above and save the file in a convenient location. In Thunderbird, open the
Tools
menu and select
Extensions
. Click on the
Install
button and open the saved extension file.
To use this extension, right-click on a folder in the left pane and select
Delete Mail Marked as Junk
. The screenshot
above
shows an example of how the right-click context menu should look. You can also press the
e
key after right-clicking to quickly select the menuitem. All mails marked as junk will be deleted from the selected folder. Look at the
Options
below to configure the extension.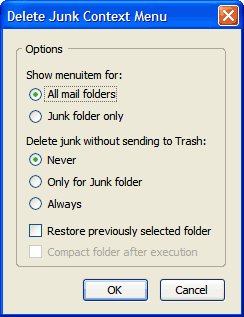 Show menuitem for: The menuitem can be displayed for all mail folders or just the Junk folders.
Delete junk without sending to Trash: Normally, deleting junk mails with this extension will send the mails to the Trash folder . You can optionally bypass the Trash folder and permanently delete the junk mails for all mail folders or just the Junk folders.

Be careful with this option! Junk mails will be permanently deleted!

Restore previously selected folder: When the menuitem is selected, the selected folder is set as the current folder (if not already) and the "Delete Mail Marked as Junk in Folder" command is run. If this option is enabled, the previously selected folder is restored as the currently loaded folder.
If you see the message "Finishing Extension Installation..." after installing the extension, please read the instructions on how to fix it.
The command expands all threads in the selected folder if it is being viewed in Thread mode.
Please be careful when enabling the option to bypass the Trash folder when deleting junk mails. If you accidentally delete mails and want to recover them, follow the instructions in this MozillaZine forums post. You may be able to recover the mails if you have not compacted the folder.
If there is a major change in the Thunderbird code, the option to delete mails permanently may no longer work but the feature will be tested with all current versions of Thunderbird and the code will be updated as needed.
The option to compact folders after deleting junk mails is currently disabled because it occassionally had some side-effects.
| | | |
| --- | --- | --- |
| 2007.04.11 | 0.3.2.1 | Packaged translations into XPI. Thanks BabelZilla! |
| 2004.09.09 | 0.3.2 | Fixed issue with 0.7+ nightlies where the context menu would show hidden menuitems. Hopefully fixed any issues with messages left in preview pane. Added icon for Extension Manager. Updated for 0.8+. |
| 2004.06.14 | 0.3.1 | Updated for new Extension Manager. New version numbering scheme. No functional changes. |
| 2004.02.26 | 0.3a | Fixed bypass Trash bug where no matter what option you chose, junk mails would be sent to Trash. |
| 2004.02.26 | 0.3 | Added settings dialog. Added option to bypass Trash when deleting junk and option to restore folder selection (thanks ausdilecce). |
| 2004.02.24 | 0.2a | Removed some unnecessary overlays. Menu item now only displays for mail folders. |
| 2004.02.24 | 0.2 | Placed menu item under Compact This Folder (Thanks to matejkorat!). Also checks to see if folder accepts command before sending it (to save from expanding threads unnecessarily). |
| 2004.02.23 | 0.1 | Initial release |